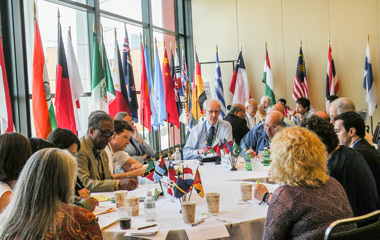 Welcome to GHI!
The Global Harmonization Initiative (GHI) is the international non-profit network of individual scientists and scientific organizations working together to promote harmonization of global food safety regulations and legislation.

The activities performed and opinions voiced, by and on behalf of GHI, are always science-based. GHI is impartial and as such, all members and officers have agreed to comply with a set of key principles when they represent GHI.
These are laid out in the Impartiality statement of GHI.
We engage and empower food scientists and experts in industry, government and academia to voice scientific consensus and make recommendations on food safety laws and regulations, globally. Our aim is to provide objective and fact-based advice that will help harmonize conflicting regulations and legal policies to:
Eliminate trade barriers that masquerade as food safety protections
Reduce the needless destruction of safe foods within and across international borders
Promote the use of innovative food safety technologies around the globe
Lessen the potential for foodborne illness and pandemic outbreaks
---