Ambassador
Benrad Oloo, (MSc.), PhD candidate
Assistant Lecturer
Egerton University and FoSTEP-K
Kenya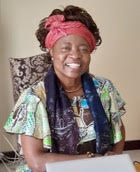 Hon. Prof. Dr. Ruth K. Oniang'o
(more information forthcoming)
Ambassador's Report
As a new nominated GHI's co-ambassador for Kenya working with Prof. Ruth Oniang'o and with the support from GHI programme director's office, my immediate task would be to:
Write several articles on 'seeds of gold' a national magazine, co-produced by Egerton University about GHI.
Represent GHI in local conferences and all relevant organization sessions and offer presentations and distribute appropriate GHI materials.
Prepare and present a seminar on GHI to staff and students of the faculty of Agriculture of Egerton University to create awareness and illicit interest among the most qualified potential GHI ambassadors.
Review the GHI books particularly by offering an up to date review of the status of GHI within Kenya and the East African region.
Translate any GHI consensus documents into 'Swahili' language; a lingua franca among most countries in East Africa and parts of Central and western Africa for publication on GHI website.
---
Activities and Presentations
Title: ENHANCING GLOBAL HARMONIZATION OF REGULATIONS FOR REDUCING FOOD LOSSES AND WASTE IN SUB-SAHARAN AFRICA
Conference: 1st All Africa Postharvest Congress and Exhibition
28-31 March 2017 | Safari Park Hotel, Nairobi, Kenya
Title: DEVELOPMENT AND DISSEMINATION OF PROPOSALS FOR INNOVATIVE REGULATIONS FOR TRADITIONAL AND UNDERUTILIZED FOOD SOURCES IN SUB-SAHARAN AFRICA
Conference: 1st All Africa Postharvest Congress and Exhibition
29-31 March 2017 | Egerton University, Kenya