To advance the Global Harmonization Initiative's (GHI) cause, a separate organization, GHI-Financials has been established to raise funds from industry and governments for the sole support of GHI activities while maintaining the impartiality of GHI.
GHI-Financials is a non-profit foundation with a constitution established under Dutch law and a board of advisors unrelated to the management of GHI.
As a company whose interests include supporting and advocating for harmonized, science-based regulations to facilitate international trade, promote the use and acceptance of food safety technologies and improve global public health, we invite you to make a financial contribution to GHI through GHI-Financials.
Your company's monetary donation will be used to advance global harmonization of food safety regulations and laws in several significant ways, including:
Funding and offsetting costs of travel for GHI member scientists, especially those from developing countries to attend and participate in face-to-face working group meetings and consensus-building activities
Supporting development of information gathering and communication channels for working groups, ambassadors, members and volunteers, and to drive effective external education and outreach efforts
Enabling GHI to publish and distribute working group output, such as white papers and science-based consensus statements, to decision-makers, such as international regulatory authorities, policy-makers and standard-setting bodies
Providing credible, science-based resources for industry and governments to help streamline avenues of compliance
---
The ROI on Your Gift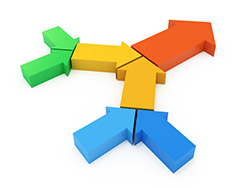 As part of the global food supply chain, your company invests valuable time and resources to produce safe and high-quality ingredients and food products for your customers around the world. But what happens when the expected returns on those investments are diluted due to differences in food safety laws and regulations?
Those differences hamper international commerce, create trade barriers, and depending on the product, make it impossible for your company's goods to enter target markets. In many cases, the lack of legal and scientific agreement with food safety regulations results in repeated food scares that damage brands, causes disputes among public health agencies and government institutions that impede trade, and can trigger the needless destruction of foods that are, in reality, safe for human use.
With the rapid globalization of the world food market, the need for a harmonized, science-based global regulatory framework has never been more critical to your business.
The Global Harmonization Initiative, an international non-profit association of individual food scientists, was formed in 2007 to work with relevant stakeholders to develop and communicate scientific consensus on regulatory issues on key food safety matters imperative to sustaining the integrity and abundance of the global food supply. GHI's goal is to support its members— independent scientists and experts — in building consensus through a tried-and-true working group model. The deliverables—white papers and similar authoritative communications—will meaningfully contribute to the international discourse required to provide transparent and unbiased scientific bases for harmonizing global food regulations.
---
GHI Annual Giving Program
All donations and sponsorships directly support the primary activities of the Global Harmonization Initiative. GHI-Financials is run by volunteers and nearly 100% of donations flow to GHI.
Through GHI-Financials, the Annual Giving Program provides an opportunity for companies and governmental/scientific organizations to participate financially in helping strengthen GHI's role in advocating for harmonized, science-based food safety law and trade. Your contributions to GHI-Financials Annual Giving allow the association's administrators maximum flexibility to direct funds where the impact is greatest and provides for efficient funding of planned expenditures.
Your financial gift will have a positive and immediate impact on GHI's success. For example: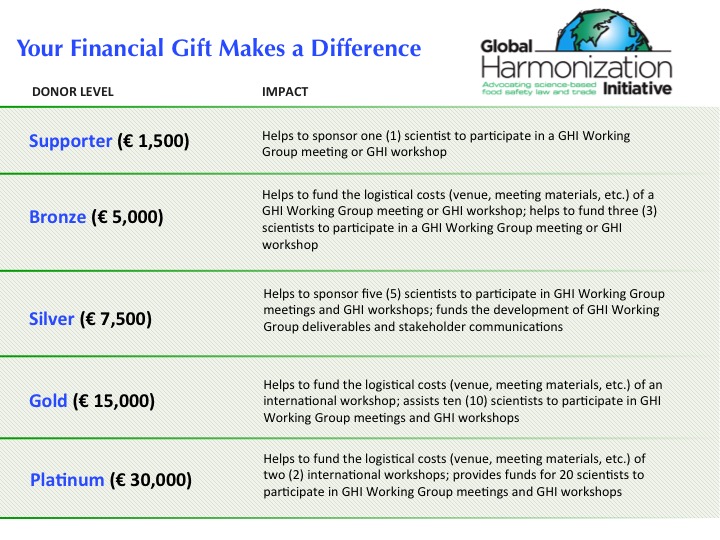 ---
Your Donation is Tax-Free in The Netherlands
In 2012, GHI and GHI-Financials were granted ANBI status in The Netherlands. The ANBI moniker stands for 'Algemeen Nut Beoogende Instellingen,' or Institutions Aimed at the Common Good. With the ANBI status, gifts from private donors to GHI-Financials can be deducted against income tax in The Netherlands.
Please note: All contributors will be acknowledged as sponsors of GHI-Financials and will receive logo recognition and a link from this foundation page on the GHI website. GHI will acknowledge GHI-Financials as its financial sponsor.
---
Make Your Investment Today
In today's global marketplace, it's common-sense business to make food safety priority one. GHI believes that harmonizing food regulations will enable your company to better manage food safety risks, invest in new technologies with confidence, reduce unwarranted barriers to trade, and promote availability of food for your consumers worldwide.
Your gift advances scienced-based food safety law and trade across the globe. Please give today.
To learn more about making a financial contribution, please contact:

Mr. Paul Lelieveld
GHI-Financials
Straten 13 D
5688 NJ Oirschot
The Netherlands
Phone: 0499 32 49 65
RSIN in the Netherlands: 850732323